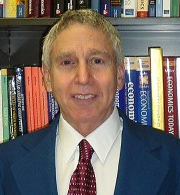 Lawrence H. Officer, cofounder of MeasuringWorth, is Professor of Economics at University of Illinois at Chicago. His specialties are monetary history and international economics. He is the author or editor of 14 books, and has published over 50 articles in journals, 65 book reviews, and numerous book chapters and website contributions.
Professor Officer has served as Interim Dean and Associate Dean in the College of Business Administration at his university, and also as consultant to national and international organizations.
He resides in Glencoe, Illinois, and enjoys classic films.